CHECK OUT THIS AWESOME VEGAN RESTAURANT IN HAYWARD
People often hear the word "Vegan" diet and automatically think it consists of leaves and grass! It's quite the contrary although the leaves taste great! ;) Recently, I stumbled across a Chinese restaurant in the Hayward (Across from Chabot College) area that prides their menu on Vegetarian and Vegan menu options. This restaurant seems to be a hidden gem! They offer many different Chinese food options. You can get a simple veggie chow mein, Pineapple fried rice or even Orange "chicken" All of which are tremendously tasteful and smell amazing. In fact, as soon as you walk in, the aroma slaps you in the face! We had all of the above items and enjoyed all of them! They came out hot and tasted amazingly fresh! I must say I was rather impressed for 1, I found a Vegan restaurant so close to home, 2, the food tasted so good and 3, The cost was similar to other Chinese restaurants we've been to. Usually anything that appears to be a "healthier" option costs more!
Not to mention their 4.5 star rating on yelp (see link below) If you're ever in the Hayward area and are craving some Chinese food, check out Veggie Lee @ 25036 Hesperian Blvd. Hayward, CA 94545
http://www.yelp.com/biz/veggie-lee-hayward-2
Enjoy!
Nationwide Fine Homes Team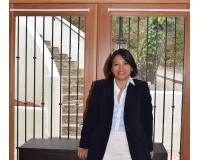 Author:
Alessandra Imanabadi
Phone:
510-504-2528
Dated:
July 25th 2016
Views:
1,993
About Alessandra: Hi, this is Alessandra and I have been practicing Real Estate for over 15 years because I truly love...