Jul 2 2015 7658 1
A NEED FOR HEAT
If you've spent months, or evenyears in warm climates like I have having lived in South Florida for several years, then you may have also experienced a severe decline in your threshold for cold. I mean, I used to drive my Jeep Wrangler through Oakland, Berkeley and Richmond - and throughout the Bay Area - with the top and doors off in the winter!Now I haveabsolutely zero desire to leave the house if it even looks like it going to be a cold day. Fortunately, when I relocated back to The Bay from Miami, FL, I remembered how much warmer my life was when I lived further inland. If you prefer warmer climates but want to maintain Bay Area residency, rest assured that you don't have to move to Miami or San Diego to keep the goose bumps to a minimum.
The "East Bay Valley"
This is what I call the area between Hwy 4 to the north and I-580 to the south; it's bordered on the east by I-680, and it's western border is formed by San Pablo Dam Rd. (reinforced by Wildcat Canyon and Tilden regional parks), along with Hwy 13 and I-580 (supported by Joaquin Miler, Redwood, and Anthony Chabot regional parks). The mountain ridge that forms the foundation of these regional parks - through part of which the Caldecott Tunnel passes - creates a front that acts as a shield keeping the Bay cold from entering this warm valley. Those heading home from their daily San Francisco work commute can attest to the dreary clouds that hover over Hwy 24 as they approach the Caldecott, which all seem to disappear once driversspill out onto the Orinda side of the roadway. This natural phenomenon contributes to consistent, continually warmer temperatures once you've made it into the valley, and they continue northeast into.
If you prefer leaving your winter coat in the closet during the colder months, it's best to make your way further inland. These areas also boast beautiful home designs in areas rich with lush greenery and gorgeous landscapes, like Las Trampas Regional Wilderness and Mt. Diablo State Park. You'll feel the temperature rise quite noticeably if you only roll down your window and feel your ascent into paradise.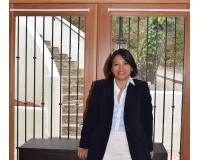 Author:
Alessandra Imanabadi
Phone:
510-504-2528
Dated:
July 2nd 2015
Views:
268
About Alessandra: Hi, this is Alessandra and I have been practicing Real Estate for over 15 years because I truly love...