May 6 2015 7658 1
Something Old, Something New...
As a kid growing up in Richmond, CA, I used to ride my BMX bike all over town with my little brother, or with a couple of my close buddies, which was especially fun. In our travels, we'd ride through different neighborhoods and up & down familiar streets, and sometimes someone would come up with the brilliant idea to go somewhere we'd never gone before, and away we would go. A staple of our traversing curriculum was visiting a slice of the Richmond coastline at the southern end of Marina Way. We'd skip rocks out over the water into the bay, we'd throw make-shift fishing lines into the water hoping that a chewed up piece of gum may attract a big fish to bite, and looking out at Brooks Island, which seemed only to be a stone's throw away from the shoreline, we'd challenge each other, speculating who'd win in a swimming race to the the island and back. I'd always tell the fellas, "That's my island!" Those were the days...
I recently revisited our memorious bayside hangout spot, taking a longtime friend there to enjoy a lovely scenic view while we enjoyed our carne asade burritos from El Tapatio Mexican restaurant on 23rd Street (at the corner of Esmond Avenue) - the best in town! What we stumbled upon as we arrived is what's now called the Lucretia Edwards Shorleine Park, which pays tribute to several historic Bay Area locations key in helping with America's efforts in WWII. There was lovely new grass, and a new concrete staircase leading down to the water we used to skip rocks over, descending directly in the direction of "my island," almost inviting one to step in and make the adventurous swim over. I love what they've done with the place!
The biggest surprise is what used to be a huge, abandoned, very beat up warehouse riddled with broken windows, which stands to the west with the Golden Gate Bridge beyond it at the horizon. There was a towered structure atop the edifice, displaying the glow of several colored lights being shone upon it. All the windows were fixed and clean, The face of the that old warehouse had been restored, and we heard music emanating from within it's walls. We drove over to investigate (at the end of Harbour Way), and behold, that old beat up building is now the Craneway Pavillion (craneway.com), and it just so happened they were hosting a free concert that we actually stepped in and enjoyed for a while! It's a spectacular venue, large and spacious, often booked for concerts, weddings & receptions, and even sporting events, like the Bay Area Roller Derby Girls Bout 2, coming up on July 11 at 4pm. As a Richmond native, it really feels good to see progress being made, and to know that there are jewels tucked away that even the locals may be surprised to know exist.
Richmond is the most centrally located city in the Bay Area, nudged perfectly at the heart of the Bay. You can reach many popular Bay Area destinations by taking a train from the Richmond BART station at the center of town, or in a very short drive, having swift access to 4 major Bridges all within very close reach(the Bay Bridge, The Golden Gate, San Rafael/Richmond, Carquinez/Vallejo) . Richmond is a twilight between city life and suburbia; a historic home of hardworkers, where the record was set for the fastest WWII battleship built in just 3 days with crews working shifts around the clock. It's the definition of the cultural melting pot, where diverse peoples from widely contrasting lands and walks of life converge together to create it's community culture. If you're looking for a home that positions you to make your work commute, reach your favorite recreational destinations, enjoy relaxation with scenic views in your downtime, or indulge an array of fine international cuisine whenever you have a taste for something different, you need look no further than Richmond, "The City of Pride and Purpose."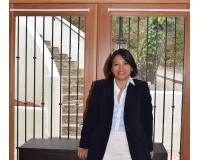 Author:
Alessandra Imanabadi
Phone:
510-504-2528
Dated:
May 7th 2015
Views:
314
About Alessandra: Hi, this is Alessandra and I have been practicing Real Estate for over 15 years because I truly love...