May 8 2015 7658 1
FLYING MADE EASIER…
I recently flew in to Oakland International Airport from Dallas, TX. It was the final leg of what had been a nationwide road trip, beginning with an awesome drive from Richmond, CA to San Diego, spanning all the way to Fayetteville, NC, and culminating with a final week in Dallas, where I watched my big brother marry his longtime love, also enjoying the company of my sisters, nieces and nephews. It was a great vacation excursion, and the flight home wasn't bad either, but since I rarely ever arrange rides to/from the airport, I knew that after touching down, I still had two buses and a train to ride before I could finally kick my feet up at home. It actually ended up being a bit easier than I thought…
Since I had driven out of town, and prior to had been flying out of SFO for my usual flights back & forth to Fort Lauderdale, FL, I was unaware that BART's Oakland Airport Extension project had finally been completed, which came as a relieving surprise! Previously, there was a shuttle bus called Air BART, which cost about $3.50 to ride over to the Oakland Coliseum BART station. If you got off your plane without cash, this meant finding an ATM, paying an additional fee to withdraw funds, then finding a place to make change. Of course, by this time several shuttles had come and gone, and I hadn't thought about this fact before I boarded my plane at Love Field Airport, but with BART now extending from the Coliseum station to the actual airport, I was able to simply use my debit card at BART's ticket machine, then homeward bound I was.
Fortunately, I live conveniently close to a BART station, so I never have to risk sitting in nasty traffic in either direction when it's time for me to fly. If you like to travel, and you're moving or considering relocating somewhere in Northern California, consider any of the vast number of cities that are BART accessible (visit www.bart.gov for schedules). There's not much greater convenience than to leave your home, and in minutes be comfortably seated on a train that will deliver you almost directly to the tarmac in either Oakland or San Francisco.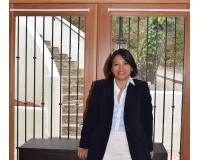 Author:
Alessandra Imanabadi
Phone:
510-504-2528
Dated:
May 8th 2015
Views:
419
About Alessandra: Hi, this is Alessandra and I have been practicing Real Estate for over 15 years because I truly love...