More BANG For Your Bucks
THE CONDO CURE
The Real Estate market is on it's way to another legendary boom, as any seller can easily fetch a grand percentage more than asking price for their listed home right now - it's happening every day! Not to mention, some sellers are accomplishing this with their homes being available on the market for just a few days. If it's your dream to own a large single-family home in a beautiful neighborhood, hopefully with a nice view of the Bay, you're probably going to pay top dollar for that right now, having to outbid several other potential buyers to do so. If, however, you're willing to open your mind and adapt your dream just a tad, you can still have that Bay View and that lovely home, but in a bit of a different form.
Condos could really be the way to go right now. I mean, think about it... you can find yourself a 3-bedroom condo and make it your own the same way you would a 3-bedroom single-family home. They offer plenty of room - spacious floor designs are not uncommon; their interiors and appliances are usually kept up to date, or at least brought up to date by their sellers, so you're most likely walking into good-as-new, up-to-date living quarters, ready to be called home in the 21st century. And since there are only so many units available on the ground level, you're more than likely going to have some kind of view if you're taking stairs or an elevator to get to your unit.
This lovely photo is from a condo in the heart of Cal Bear country, just blocks from Cal Berkeley. Only steps away from University Avenue, Martin Luther King Jr. Way, Oxford Street and Shattuck Avenue, this luxury condo is anchored by the Berkeley Repertory Theatre, the Downtown Berkeley BART Station, and is close to several local eateries, like the Triple Rock Brewery & Alehouse and Angeline's Luisiana Kitchen. Although this unit listed for $780K and sold for over $900K, the alternative would be paying far more for a single family house with about the same square footage, just to be disconnected from the next unit, and it may not even be cute. With condos, you're definitely winning.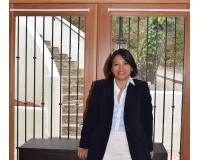 Author:
Alessandra Imanabadi
Phone:
510-504-2528
Dated:
May 29th 2015
Views:
243
About Alessandra: Hi, this is Alessandra and I have been practicing Real Estate for over 15 years because I truly love...